SHED SHELVING Made Easy
Our "stud-mounted" shelf brackets are strong, simple to install and look great! This is one of our best selling products and the "favorite" of our product developer!!!
** Made from furniture grade ply on a CNC router table.
** Fasteners and Drive bit are included with your order.
BUY Shelf Brackets
"Max Shed Kit": Features our "Stud-Mounted" Shed Organizing System.
This kit contains our most popular products!
"Let us turn your messy spaces into places you can be proud of!"
** Free fasteners and drive bit with each order.
SHOP MAX SHED KIT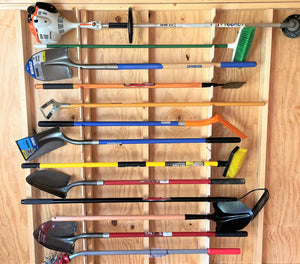 Universal Garden Tool Organizer
This is one of our best selling organizers. It maximizes storage capacity in smaller sheds. The device is simple to install and neatly organizes a number of items in your shed space!
Shop Now!